After months of patiently waiting, most businesses in Scotland are now opening again with appropriate COVID-19 precautions and following their industry's new Health & Safety COVID-19 regulations. In most cases, this means keeping staff and customers 2 metres apart and where necessary wearing appropriate PPE such as face masks.
Most business owners will be honest in saying that they are still worried about being shut-down again due to their staff or customers contracting COVID-19 or due to a local Lockdown.
So along with Government and Industry guidelines what else can you do to keep your staff and customers safe from COVID-19? One method is to take the temperature of every person entering your building as a high temperature is one of the top signs of COVID-19 and other viruses and flu strains. If you can keep people with a high temperature away from your staff and customers then this will reduce further the chance of them spreading infection in your premises.
How to Check for a High Temperature in Commercial Premises
Luckily, you don't have to appoint someone to stand at the door all day with a manual thermometer!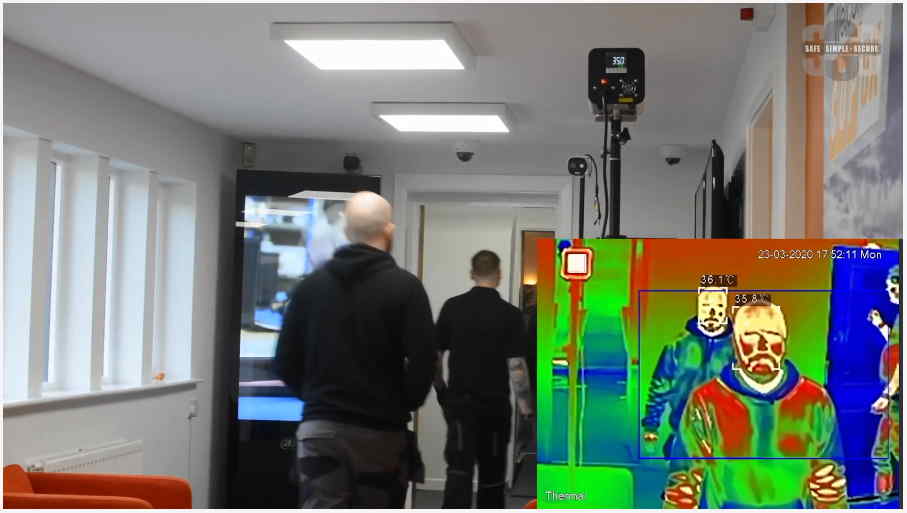 At Safe Simple Secure, we can now offer a CCTV based solution. Thermal body cameras can be installed at every entry point to monitor the body temperature of everyone entering your business premises. These systems can check up to 30 people per minute and alert you to anybody with a high temperature.
They are quick and easy to install and can provide you, your staff and customers with peace of mind that they are entering a safe area and that you are doing everything possible to protect them from COVID-19.
If you would like to know more about these systems or would like a free quote for the supply and installation of a Commercial Thermal Imaging system, then please get in contact.