CCTV is often used at commercial premises in the UK for several reasons.  In some cases, where there are high cases of theft, it will be used to supplement an intruder alarm system.  In other cases, businesses will use it to protect their employees and customers. For instance, a camera situated near the tills can help prevent your staff from being shouted at or abused by customers. In most cases, it will be used for multiple reasons so that you can protect your assets from theft and vandalism, and your staff and customers from all types of abuse. The benefit of CCTV over an intruder alarm is that the footage recorded can be used as evidence by the Police.  It can also help the Police find the people responsible for the crime committed. Ideally, a business will employ an intruder alarm and CCTV to help deter all types of crime.
So the answer is that yes, you can install security cameras at your workplace either indoors or outdoors, however, there are restrictions that you must follow.
Is it legal to install CCTV at a workplace?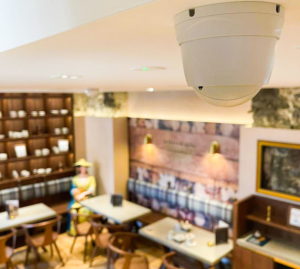 All CCTV, whether in a domestic setting, a public place, or commercial premises must comply with the relevant laws or you will be facing huge fines. For commercial premises, you must follow Data Protection Laws and rules under the Human Right Acts 1998.
The UK Government Website states that you must:
Put up a sign to let people know CCTV is being used and why.
In most circumstances, be able to provide images within 1 calendar month to anyone you've recorded.
Share images with the authorities, such as the police, if they ask for them.
Keep images only as long as your business needs them.
Pay a data protection fee.
What are the rules for installing CCTV at business premises in Scotland?
The ICO (Information Commissioner's Office) provides a detailed guide on the steps you must take before installing CCTV and during the operation of CCTV at your workplace. The ICO is the UK's independent authority that has been set up to uphold information rights in the public interest, promoting openness by public bodies and data privacy for individuals.
Before buying and installing a new security camera system at your business premises you should ensure that you can comply with the laws in place to protect people being filmed.
Privacy
You must consider the privacy rights of those that you may film. For instance, you can install a camera above the till area for crime prevention purposes, but you can't install a camera in the changing areas. You must have a good reason for installing security cameras such as crime prevention or employee safety. You must also explain to your employees the reasons for installing CCTV and detail where the cameras will be installed and for what purpose. You must listen to any concerns that your employees may have and address those concerns.  Employees have the right to complain to the ICO if they believe you are using CCTV unfairly.
Documentation
There are various documents that must be created or updated if you decide to use CCTV at your premises.
A Data Protection Impact Assessment (DPIA) must be completed before using CCTV. This document will detail why you have decided to use CCTV and how it will impact the privacy of any employees or customers.
A CCTV Policy must also be created that explains in detail why you are using CCTV and how you are keeping the footage recorded secure.
Your company Privacy Policy must be updated to state that you are using CCTV.
You must put up signs at your premises stating you are using CCTV and register with the ICO.
Finally, you need to check if you have to pay a Data Protection fee. For most small to medium sized businesses, this will be either £40 or £60 per year.

Data
There are strict rules around the storage of CCTV footage. As you are storing personal data, it falls under the UK Data Protection Act 2018 which incorporates General Data Protection Regulations (GDPR).
You cannot keep camera footage for any longer than you need it and it must be kept safe and secure by a nominated data controller. 31 days is the length of time that most people keep the footage.
Anyone who has been filmed has the right to see the footage if they are identifiable on the video.
You cannot legally record sound. Conversations between members of the public must not be recorded.
These laws cannot be ignored.  A company breaching any CCTV law can be fined up to £500,000.
How do I install a commercial CCTV system?
To ensure you keep within all laws, rules and regulations of installing CCTV, we advise that you contract a highly recommended local security company to install your new CCTV system.  They will be able to advise on the best system for your size and type of business and you will be able to use them for further support and regular maintenance.  Most good companies will also be able to offer monitoring services.
Safe Simple Secure offers a full CCTV installation, maintenance and monitoring services for companies based in Edinburgh and throughout the Lothians. We will design and install a system that is high-quality, technologically advanced, and most-importantly tailored to your business and requirements. We will carry out a free site survey before providing any quotes. Please do get in contact to find out more about our business security systems including commercial CCTV systems.